When You Wish Upon a Star
What do you get when you cross a goofy marching band with Southern California?  Two completely different parade experiences!  The weekend before Thanksgiving, the Get a Life Marching Band flew south for a weekend of sun and silliness.  While waiting for Steve to arrive, <![if !supportFootnotes]> [20] <![endif]> Janet spent a day fighting crime with her sidekick at Universal Studios.  We whiled away Saturday at the Disney theme parks, and then in the evening GAL led the Christmas Parade through the jam-packed streets of Disneyland! 
The band was decked out in new uniforms and on its best behavior to meet the buttoned-down standards needed to maintain the Disney mystique.  We met our stage manager near Toon Town, walked around a corner, disappeared through a "cast only" door, and instantly we were in the back lot.  After transforming from a ragtag group into a band, we walked past floats and trumpet players in life-size Parade of the Tin Soldier costumes, lined up behind a big gate, and started playing.  The gate swung back and BAM!  There we were on Main Street with people everywhere.  We boogied through the whole park in exuberant GAL fashion, disappeared through another gate, and suddenly it was over.  Dreams do come true; the magic lingers on.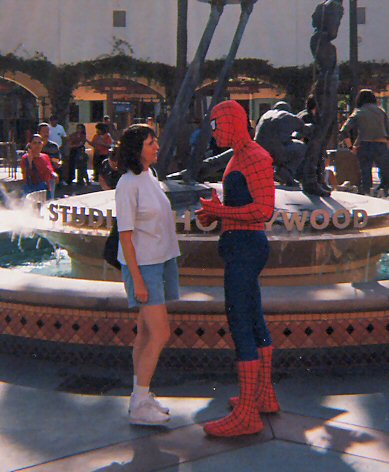 "Don't get all clingy on me!"